I'm dreaming of a beautiful living space like the one below!
We just bought this flush mount chandelier for the kitchen!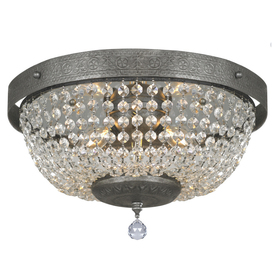 This is our
laundry room
, along with my hubs (wink!) that he built for me. He's pretty
sweet
! It definitely isn't finished yet (as you can see lol). We are hoping it will be finished within the next month.
Hoping
. I have been
stumped
on what color to paint the laundry room. It's small, so I really want to utilize storage. I'm going to have one or two floating shelves.
Do you remember when I bought this chandelier originally for the bedroom? But it was too small, so Cal suggested that I use it for the
laundry room
(I knew I married him for a reason! haha)
I was browsing the Internet when I came across this
beauty
of a
picture
!
I love
turquoise.
That chandelier looks
very similar
to my chandelier. As I was at
work
(ever have those moments? lol), it dawned on me, I should mimic this room for my laundry room!
Hooray
! So, I'm going to paint the middle wall True Turquoise by Glidden (the same color as my open shelving in the kitchen) and the other two walls white with my chandelier as the lighting.